Tossudes
We are stubborn at L'Olivera. Stubborn like the grapevines that survive in our dry land. Stubborn like the winter fog and stifling summer middays. Stubborn like the hope that drives us to make a project like ours work, often running up against values the new times impose.
This stubborn and persevering character produced the first red wine from L'Olivera, released in 2008 after 20 years of white wine production. A wine that emerges from tough harvests, with dreams like those of the headstrong people behind it.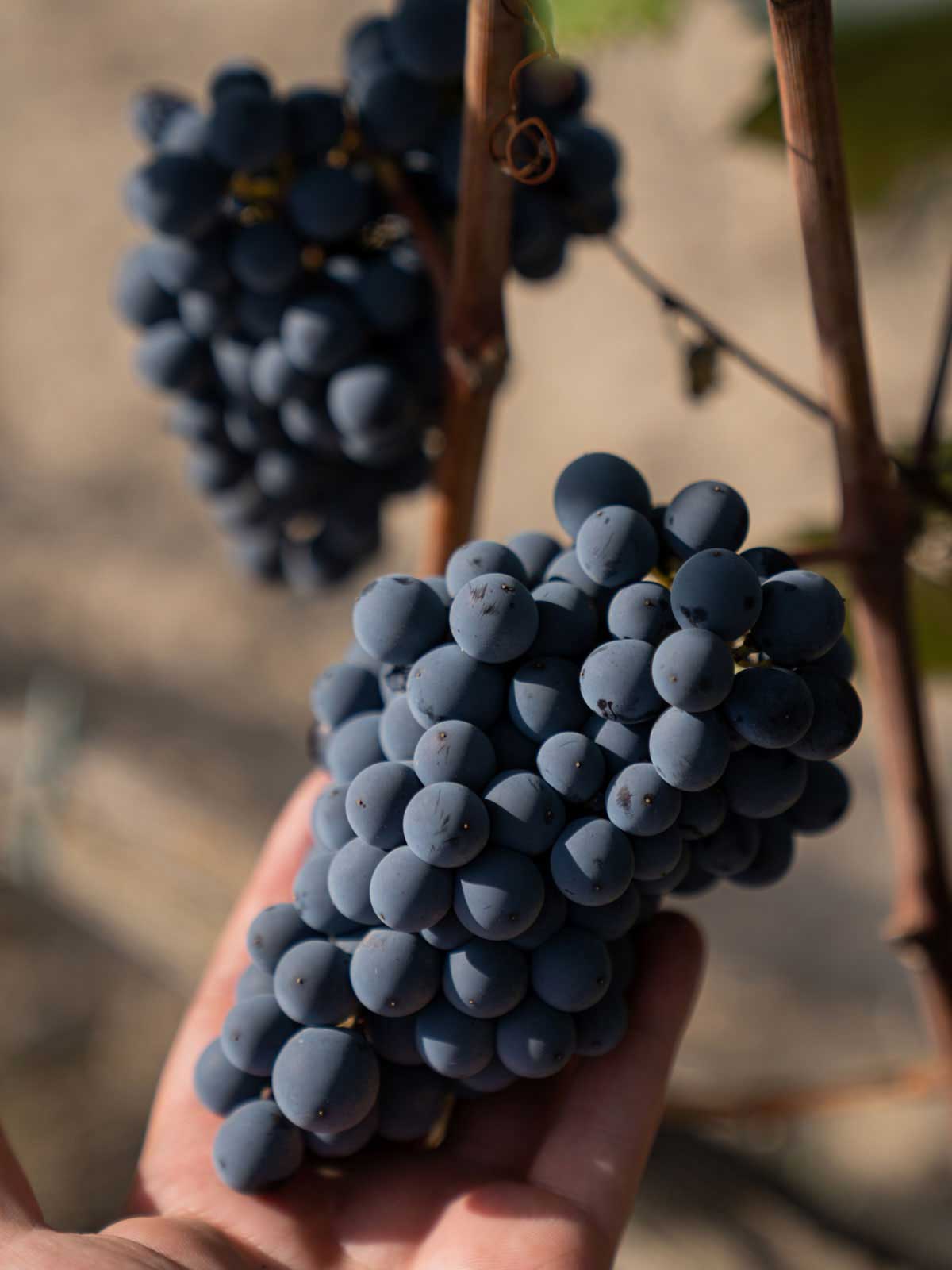 Tossudes is a mature young wine with a careful blend of red grapes, aged in vats and bottles to achieve the refinement and maximum expression we aimed for. The result is a complex wine, with black fruit aromas and balsamic notes of deep wood and spices.
With Tossudes we want to take a step further in red winemaking, giving it the personality that has seen us persevere and get to where we are. A young and agile character that is at the same time mature and complex. That is L'Olivera. That is Tossudes: a universe experienced by and designed for people who are brave and headstrong.
Terroir
ORIGIN: Vineyards from different municipalities in the Corb River Valley subzone of the Costers del Segre DO and family-run plots from around Bonretorn, on the southern side of the Prades mountain range in Tarragona.
SOIL: Chalky clay soil with variable levels of stoniness and depth.
CLIMATE: The climate is continental Mediterranean, with cold dry winters and hot summers tempered by the soft evening breeze blowing in from the sea that cools the night, particularly during the ripening season. The scarce rainfall is concentrated in autumn and spring (350-450 mm yearly).
Varieties
Grenache (61%), Monastrell (20%), Ull de llebre (10%), Trepat (9%)
Vine growing
Organic farming. Manual harvest in crates of 10-12 kg.
Wine processing
Fermented under controlled temperature in pigeage vats with periodic punch-down of the skins. Aged for one year in the bottle.
Production
2019 vintage: 9,078 bottles
Characteristics of the 2019 vintage
The growing season for the 2019 vintage had the usual cold winter and above-average rainfall compared to previous years. There was a regular amount of rainfall in spring and summer and average production across the different plots, resulting in balanced ripening of the grapes. Harvest began on 30 August and ended on 15 October.
Viticulture and wine processing
Certified organic dry land farming. Hand-picked into small crates of 10-12 kg; if necessary the grapes go through an on-table sorting process. The varieties are fermented in pigeage vats with periodic punch-down of the skins, which we combine with the odd open pump-over at the end of fermentation. We place the varieties separately in vats that we work on manually and at a controlled temperature to obtain mild extractions. During the blending process we decide what proportion of each variety to use to produce Tossudes.
Analysis
Alcohol content: 15%
Total acidity: 3.9 g/l (sulphuric acid)
Volatile acidity: 0.33 g/l
Residual sugar: <0.5 g/l (glucose+fructose)
Total sulphites: 37 mg/l
Tasting notes
Fresh, with a frank bouquet of medium intensity. In the nose, notes of red fruit appear (cherry and raspberry) with a touch of sweet flower, aniseed and spices. Pleasant and elegant on the palate, with a full and very fine tannin, good acidity and a highly refreshing mouthfeel, with a return of the fresh red fruit and spices. Goes well with white meat, pasta and risotto. Try alongside a variety of cold canapés or a vegetable-topped coca bread.
Awards
Peñín Guide:
2022: 87 points (2019 vintage)
Guia de Vins de Catalunya:
2021: 7,79 points (2018 vintage)
2019: 9,2 points (2016 vintage)
2018: 9,4 points (2015 vintage)
International Wine Awards 2019:
Silver medal (2017 vintage)